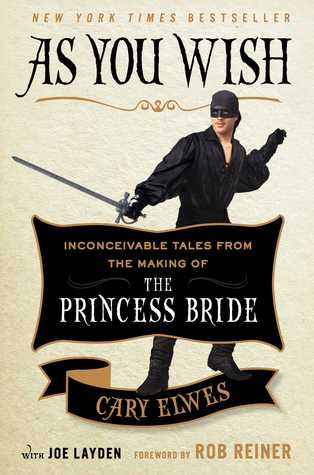 Goodreads: From actor Cary Elwes, who played the iconic role of Westley in The Princess Bride, come a first-person account and behind-the-scenes look at the making of the cult classic film filled iwth never-before-told stories, exclusive photographs, and interviews with costars Robin Wright, Wallace Shawn, Billy Crystal, Christopher Guest, and Mandy Patinkin, as well as author and screenwriter William Goldman, producer Normal Lear, and director Rob Reiner.
The Princess Bride has been a family favorite for close to three decades. Ranked by the American Film Institute as one of the top 100 Greatest Love Stories and by the Writers Guild of America as one of the top 100 screenplays of all time, The Princess Bride will continue to resonate with audiences for years to come.
Cary Elwes was inspired to share his memories and give fans an unprecedented look into the creation of the film while participating in the twenty-fifth anniversary cast reunion. In As You Wish, he has created an enchanting experience; in addition to never-before-seen photos and interviews with his fellow cast mates, there are plenty of set secrets, backstage stories, and answers to lingering questions about off-screen romances that have plagued fans for years.
Stasy: I loved this book. The Princess Bride has been one of my favorite movies since childhood and Westley was one of my first movie crushes.
I am not going to share any specifics because if you loved the movie, you need to read it yourself, but I laughed through a good deal of it, smiled at more, and was genuinely touched by other stories. Elwes is most definitely not a writer and even with the help of a professional, there are parts that seem a bit rough (which is why it lost a star), but I very much enjoyed and would recommend it to anyone.
Rating: ★★★★☆